Production Base
Our Yokohama Works is the production base where the integrated manufacture of one of our core products, Daconil, is carried on. Using manufacturing technology unique to SDS Biotech, high quality, high-performance products are delivered. Since the sales launch of the Daconil products manufactured at Yokohama Works, they have maintained a firm position as tree trunk fungicides.
Yokohama Works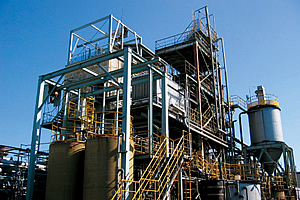 Our production base at the Yokohama Works, situated close to the port of Yokohama, began operation in 1969 as the world's first plant manufacturing chlorothalonil, the active substance of Daconil.
Since then, applying stringent environmental measures, it has continued to function at high levels of production, maintaining safe and stable operations, a record of which, along with the high quality and performance of our products, SDS Biotech is proud.
Yokohama Works houses not only an active substance, but also a product formulation plant where the fungicide Daconil 1000 and other finished products are manufactured. It thus represents an integrated production facility for Daconil products bringing together all stages from active substance to finished product. Yokohama Works has not only achieved certification under the ISO 9001 international standard for quality management systems, but integrated production at our own plant has allowed us to apply to all processes—from the raw material and the manufacturing stages through to the packaging and shipment of the finished product—a seamless system of responsibilities covering the environment, safety, quality, and performance.